Mama Yolanda's North End Boston Chili
Recipe: Created by Chef Darek W Haupt, CEC for Mama Yolanda's Traditional Sauces®, LLC
Level of Difficulty: Easy
Yield: 15 – 8oz main course servings (See Note below for 1/2 batch instructions)
Prep time: 20 minutes
Cook time: 2 hours
Total time: 2 hours and 20 mins
Ingredients:
4 tbsp extra virgin olive oil
1 medium sweet onion, medium diced
1 red bell pepper, medium diced (Substitute green bell pepper if needed)
5 cloves fresh garlic, chopped (Substitute 1 tsp granulated garlic if needed)
1 lb ground beef, 85/15% lean
1 lb Italian turkey sausage (Substitute any sweet Italian pork sausage if needed)
1 tsp chili powder
1 tbsp oregano, fine chopped (substitute 1 tsp of dry)
1 tbsp fresh basil, fine chopped (substitute 1 tsp of dry)
1/2 tsp of cumin
Pinch of crushed red pepper flakes
30 oz diced fresh tomatoes
2 – 24 oz jars Mama Yolanda's Traditional Sauces® Authentic Italian Tomato Gravy
2 – 15 oz cans of chili beans, pinto or kidney. Do not drain (Substitute unseasoned red kidney beans if needed, but these should be drained. Also, if substituting beans, increase chili powder to 2 tsp.)
1 cup grated Pecorino-Romano cheese
1 cup chopped fresh flat leaf Italian parsley (substitute 2 tbsp of dried parsley flakes if needed)
Salt and Pepper to taste
Method:
In a large (5+ qt) soup pot, heat 2 tbsp olive oil on medium heat until hot
Sauté onion, bell peppers, and garlic for 5 minutes in the hot oil
In a large skillet, heat 2 tbsp of olive oil.
Crumble beef and turkey sausage into skillet continuing to break up as cooking begins. Cook until thoroughly browned
Drain meat fat in colander/strainer.
Add meat into the soup pot with the onions, bell peppers and garlic. Mix well
Add chili powder, oregano, basil, cumin and red pepper flakes. Continue mixing
Add fresh tomatoes and stir thoroughly. Increase to medium-high heat
Add Mama Yolanda's Traditional Sauces® Authentic Italian Tomato Gravy. Stir
Add chili beans. Stir well and bring to good simmer
Cook uncovered on medium-low heat, stirring often, until you achieve a good chili consistency; about 2 hours
Add cheese and parsley. Stir Well
Add salt and pepper to taste
Add your favorite hot sauce, if desired. Refrigerate any leftovers and consume within one week. Reheat in microwave oven, covered lightly, to preserve moisture content.
Note: If you have neither the appetite nor the storage capacity for a batch this size, simply reduce the ingredients by 50% to yield 7-8 8 ounce main course servings.
Serving suggestions: Mama Yolanda's Italian Chili makes a wicked-good chilidog! Ladle generously over a grilled hotdog on your favorite hotdog bun. Garnish with hot pepper rings or pepperoncini's and diced raw onion. This recipe also is great for an Italian twist on the classic nacho preparation with your favorite tortilla chips. Garnish with coarse shredded fontina, parmesan, or Pecorino-Romano cheese and pickled jalapeño pepper slices.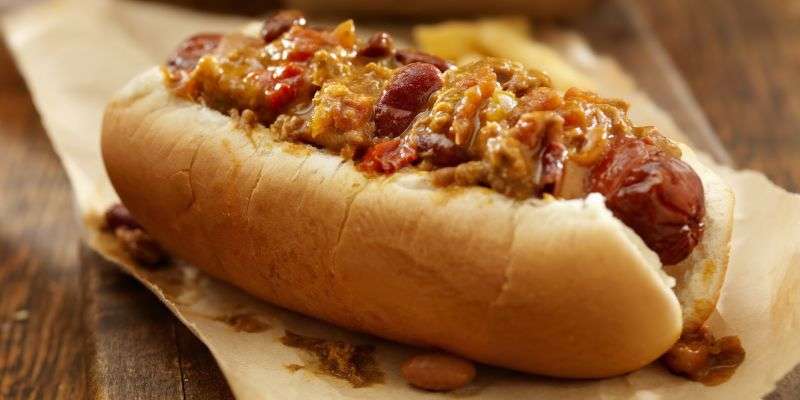 Our chili recipe pairs well with Chianti Classico and Malbec wines or with your favorite pale ale or IPA.